TAKE A LOOK INSIDE THIS FUN, MODERN BEACH GETAWAY WITH POPS OF COLOR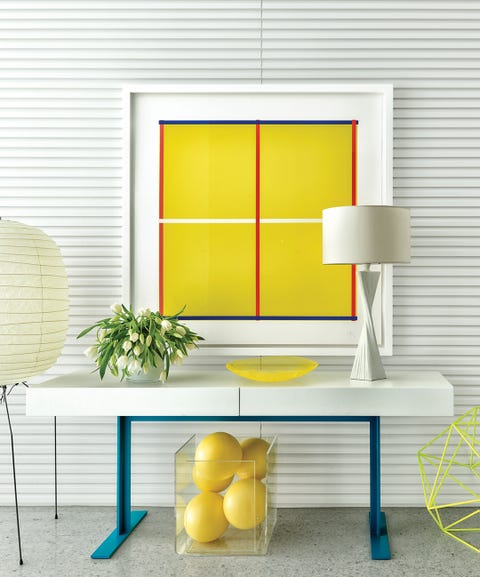 Mindel wanted the getaway apartment, which the family uses when they are not at home in Manhattan or at their beach house on Long Island, to reflect their energy and exuberance as well as the strong sense of color and place that lured them to the Faena District. Mindel had designed several other homes for them, so he knew their rhythms, how they would want to experience instant delight just walking into the apartment during their Miami escapes. "My process is somewhat musical," he says. "I start with what is around me, take in all the influences, and listen to what drew the client to the place. It winds up all making sense."
Unsurprisingly for a Miami roost, the apartment, which was combined from two units, is mostly white. But that's just the opening sonata. Mindel employs a series of dramatic hues and wittily knowing shapes to offset the neutrality and give the place a subtle subtext. The embedded references—some quite oblique, others droll—are of the vast Atlantic and the simple joy of living on the beach. They also reflect the district's signature crayon hues, especially the cherry red and white–striped beach umbrellas, lifeguard stands, and cabanas that dot the resort's substantial ocean frontage.
"The key," Mindel explains, "is always context. Minimalism that embraces its surroundings becomes regional modernism, a completely different animal."
In the living room, which has a gently torqued geometry that makes it feel like a ship's prow (a wraparound terrace contributes to the effect), the aura of the sea is evoked by azure glass millwork. Custom Ico Parisi-inspired sofas seem like low waves—lucite legs add to the illusion—and the long light fixtures on the ceiling are staggered like a school of fish. The weave of the custom V'Soske rug changes slowly from wool to silk as it winds into the master bedroom like a tide pool.
The screening room holds chaise longues with cushions in subtly alternating shades of muted beige to suggest the varying hues and shapes of sandcastles. Low yellow- and orange-tiled tables by the midcentury French ceramics master Roger Capron are meant to evoke brightly colored sand pails and shovels. สถาปนิก